Gulf Coast Citizen Diplomacy Council
Promoting global relationships "one handshake at a time"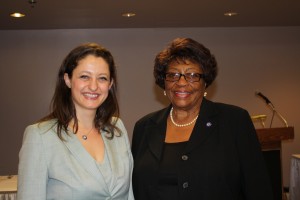 For four days we were honored to host Ms. Safak Pavey, a recipient of the International Women of Courage Award.  Safak Pavey is the first disabled woman elected to the Turkish Parliament.  She was honored with this award because  of her demonstration of great personal dignity in overcoming physical obstacles each and every day while locally and globally championing the rights of vulnerable populations, including refugees and disabled persons.
Ms. Pavey arrived in Pensacola after being welcomed in Washington, DC by Secretary of State Hillary Clinton and the First Lady, Michelle Obama. She was welcomed to Pensacola at City Hall by Councilwomen Maren DeWeese and Sherri Myers who presented her with an overview of the city as well as an honorary certificate of citizenship.  Being a disability advocate, Ms. Pavey then departed to visit Joe Denmon at the Lacey A. Collier Sensory Complex where she was given a tour of their one-of-a-kind complex.  After lunch, she met with Susan Watson of ACLU Northwest Florida, Doug Landreth of Gay Grassroots of Northwest Florida and Patrick Rogers of the OASIS Community Center for a discussion on LGBT rights and AIDS advocacy.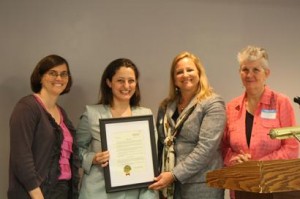 That evening, she enjoyed dinner in the home of Mike and Karen Jurkowich along with some of their close friends.  She later remarked that it was the best meal she had had in the U.S.A. thus far.
The next day, she was welcomed by Laura Jo Hust and Don Risavy at the Center for Independent Living's Disability Resource Center where she toured their operations and had an overview of how their materials are distributed and managed.  Following that appointment, she joined Escambia County Commissioner Marie Young who welcomed her to the county by hosting a reception in her honor at the Pensacola Civic Center.  In attendance were many of the city's female leaders and activists.
Ms. Pavey's visit to Pensacola was truly remarkable in that she is such an inspirational person.  She truly touched many people during her short visit, and we would like to thank everyone who took the time to welcome her.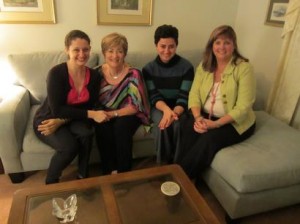 To see more photos, go to http://www.flickr.com/photos/gccdc/sets/72157629597338007/